Foreword
Evidence, in the form of data and statistics, is essential for formulating and monitoring policies. But we don't just need any old evidence. If we are to be sure that we are making sound decisions, we need to be able to have faith in the soundness of the figures we rely on. This is where the Fundamental Principles of OfficialStatistics come in.
I am immensely proud to say that these Principles, now a General Assembly-endorsed global standard, were created right here in our region by a UNECE body.
For those of us tasked with guiding and monitoring the progress of countries as they tackle the big challenges of our time—climate change, population ageing, sustainable urbanization, transitioning to a green economy—the value of comprehensive and trustworthy information cannot be overstated. I, like many others, depend every day on information produced under the umbrella of the Fundamental Principles to understand what is happening across the region as we all strive to attain the Sustainable Development Goals. It is for this reason that supporting our member States to improve their statistical systems is one of the central, powerful goals of the organization I lead.
I firmly believe, therefore, that the Fundamental Principles must and will remain at the heart of official statistics for another 30 years and beyond, as the shared foundation of an informed society.
I invite all countries to respect and uphold the Principles, and to strengthen and support official statistics producers to that they are empowered to fulfil the Principles to the maximum extent.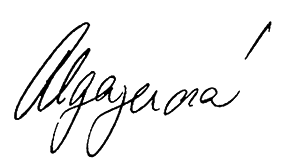 Olga ALGAYEROVA
Under-Secretary-General of the United Nations, 
Executive Secretary of the United Nations Economic Commission for Europe